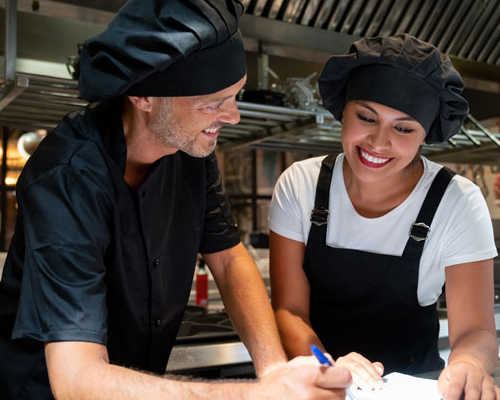 When you're hard at work in the kitchen, it's easy to ignore the state of your commercial kitchen exhaust fan. That is, until it stops working, and starts causing you trouble during your busiest hour of the day! What a nightmare!
That's just one of the many reasons it's critical to spend more time assessing your commercial kitchen exhaust systems and taking precautions to ensure your fan is kept in tip-top shape for when you need it most.
The Difference Preventative Maintenance Makes
Want to reduce costs, save time, and limit risk? If so, having a preventive maintenance plan for your commercial kitchen exhaust fan is vital. With just a few regular adjustments, your system can be kept at peak performance, being serviced only during your off hours!
Get to know the things Tri-Air will inspect and service, and why:
1. Aged Vibration Isolators
Over time, your vibration isolators can age, drying out and falling apart. As these are the rubber connectors that hold the frame of your fan, acting as a shock absorber, these are necessary for safe and proper use of your kitchen exhaust fan.
Signs you may have an issue with your vibration isolators include hearing a rattling, vibration, or a clanking noise. Easy to fix and affordable to replace, out Tri-Air Systems team can replace these pieces as regularly as needed.
2. Lubrication of Fan & Motor
Lubrication goes a long way when it comes to reducing the friction of your fan shaft and motors. At Tri-Air Systems, we can have a look to see if regular lubrication would best fit your needs.
3. Balanced Blades
Another symptom of vibration is that your commercial kitchen exhaust fan blades have become unbalanced. When bolts and screws loosen over time, your blades can begin to shake, reducing efficiency and causing an unpleasant noise.
Our Tri-Air team will check for any screws or bolts that need tightening, and ensure there is no build up of grease or gunk that has caused problems.
4. Wiring, Cords, & Seals
Does your exhaust wiring have plenty of slack? Have you inspected your wiring or cords for kinks, cuts, or fraying? Are the seals on your motor covers secure? When equipment bangs into these parts, or fats and oils wear them down, your larger system can age faster.
Wear and tear is natural, but with a proactive approach to maintenance, you can get more life out of your kitchen exhaust fans.
5. Fan Belts
When was the last time you inspected your kitchen exhaust fan belt? Too often, people tighten their fan belts far too much, which wears them down faster and can be a safety concern. With a simple check by our Tri-Air Systems team, we can ensure your kitchen exhaust fan is positioned correctly, and the tension is appropriate.
If you notice that your fan belt has begun to break down, has become flaky, or is starting to droop down, it's time to give us a call
Contact Tri-Air Systems Today!
Don't wait for your commercial kitchen exhaust fan to break down – call us today for your full inspection and to design a preventative maintenance schedule that meets your unique needs. We're here to help.
Need additional HVAC services? We can help with that too! Reach to us to learn more about our Commercial HVAC, Industrial HVAC, Air Quality, and Gas Detection services.
Call now! 905-470-2424