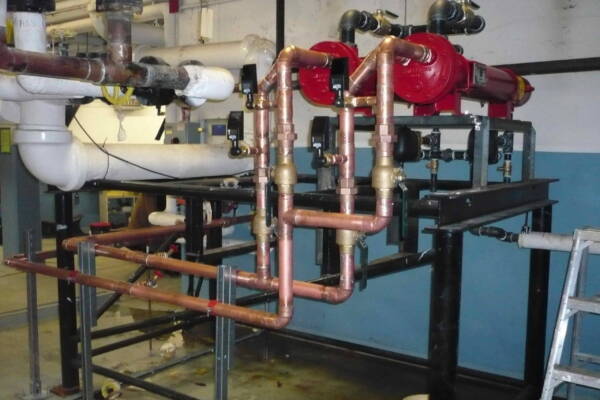 Being in charge of the heating and cooling comfort is a never-ending job. People have different needs, as do businesses. HVAC systems, like any equipment, have an expected lifetime that can vary based on the quality, usage, maintenance, and overall handling. When the temperature drops, you may scramble to find commercial heating solutions to replace your old or outdated ones. Many times, things will go along smoothly, and your building occupants and visitors will be warm and happy. When the season's coldest day hits, you don't want to be left with a broken system that calls for emergency commercial boiler repair. Staff will get cold, and frustration sets in as they try to warm up and complete their work. In addition to people, equipment doesn't handle extreme conditions either.
Furnaces, boilers, heat pumps, and other heating equipment will last for years but won't last forever. There will come a time when you will have to install newer, better equipment to ensure workers, tenants, and visitors remain comfortable all year long. Choosing a reliable HVAC company ensures you have a system that performs optimally versus one that fails when you need it most. TRI-AIR Systems is a trusted heating and cooling company with decades of experience providing the best options for your needs. We work with our customers, understand their needs, and provide the needed support. Depend on our licensed technicians to install, maintain, and ensure skilled commercial heating repair, giving you the most efficiency for the unit's life.
Guide – What Commercial Heating Solutions Work the Best?
Since heating needs vary based on the type of business and building, finding the right kind of commercial heating system is vital. Each industry must consider the size of its facility, its uses, and the power of any equipment used. A retail shop will not need the same heating solution as a hospital. Zone heating is also a consideration as you may benefit from controlling little-used rooms.
As a seasoned HVAC company, TRI-AIR Systems strives to provide you with the best options for your commercial heating and maintenance needs. We have highly trained technicians who assess your place of business and offer the right solutions. We look at the structure, existing units, ductwork, and widespread use throughout the building. Ultimately, we want to ensure all inhabitants are comfortable in all seasons.
Commercial Heating Basics for Property Management Companies
Property management companies have long to-do lists. As one project gets completed, another one shows up. A tenant has a burst water pipe in their restroom. The next one is not comfortable with the heat within their unit. With everything that needs to be handled, it is hard to know what to do first. When it comes to heating systems, a few basics to keep in mind will help:
Routine Maintenance:

When you invest in regular maintenance, heating systems will last longer and run efficiently. A licensed technician can come in regularly to check belts, bearings, coils, and other items. They will clean and grease parts and conduct preventative maintenance.
Partner with a Quality HVAC Company:

Save yourself time and headaches by hiring an experienced and quality heating and cooling company to handle your commercial heating maintenance and repair needs. They can offer annual maintenance agreements to keep things running smoothly.

Keep Tenants Informed: Help your tenants assist you with keeping things in good shape. Share tips they can follow within their units and stores to keep their building's commercial boilers and furnaces working well.
Your routine maintenance is handled efficiently when you work with a quality commercial HVAC company. The knowledgeable team at TRI-AIR can take care of your maintenance and repair needs. We will also assist with tips to share with your tenants to keep the heat working well all winter long.
Basic Consideration of Heating Functions for the Healthcare Industry
Medical staff in hospitals, clinics, and doctor's offices work hard to heal their patients. They often work long hours in stressful situations. Not only do they need to be sensitive to the needs of patients and families, but they also work with sensitive equipment that is kept in specific conditions. A quality heating and cooling system ensures everyone is comfortable, the air is cleaner, and the equipment can function as it should.
Licensed HVAC companies help you accomplish this by looking at these considerations:
Filtration:

With all the different germs and microbes floating around, your heating system should be able to filter out unwanted particles. Using high-quality HEPA filters is the start of better air within a facility.

Ventilation:

Systems need to pull outside air in and push inside air out effectively to ensure plenty of fresh, flowing air. Moving air keeps it from becoming stale and perpetuating other illnesses.

Zone Control:

Every wing, floor, and room will have different requirements for heating. It's vital to understand this and seek assistance from a licensed HVAC company to ensure it happens.
You don't have to struggle with deciding on the best options for your medical facility. Our knowledgeable technicians can review your buildings and provide solutions to keep patients and staff comfortable.
Considerations for Heating in Municipal Buildings
With the multitude of foot traffic that comes through a school, fire department, or other municipal building, it may be challenging to assess the best heating solutions. Each building has different requirements, but these factors should weigh in on all decisions:
Square Footage and Building Design:

Start by assessing how much of your building requires heating. For example, offices need more warmth than a garage full of parked equipment. The way an area is laid out and the height of ceilings are a couple more factors determining the best heating method.
Fuel Resources:

It doesn't make sense to install a furnace fueled by natural gas when there is no access. Likewise, you should rethink solar panels if you don't have enough space.

Maintenance Requirements:

Each system has different maintenance requirements. An experienced technician can lend some insight on what each design will need and if the one you are eyeing is not feasible.

Strategies for Efficiently Heating Offices
Today's offices are much different than years ago. Before, it was common to have private offices along the perimeter while cubicles stretched throughout the middle of the floor. Many companies realize that an open office concept gives off more natural light, which employees enjoy. This shift has caused a change in how the areas get heated. A trusted HVAC company can aid you in determining the best options by looking at these factors:
Size Requirements:

A heating system must be the right size for the space. Contrary to what many believe, bigger does not mean better. Instead, they will review the size of the area, the lighting, and activity patterns to determine the best options for comfort.

Potential Control Zones:

It is possible to help your heating system run more efficiently by using zones. For example, the areas along the outer walls are affected by the weather more than others. Some places, like conference rooms, will not always be occupied, so they don't need to have the same heat requirements.

Use of Sensors:

The use of sensors helps adjust temperatures based on the use. This will save you frustration from keeping track of when to adjust temperatures; all it takes is the right bit of technology.
Use a qualified HVAC technician to ensure all options are considered so that your employees and visitors remain comfortable as the temperature drops. We have the experience required to provide you with the best solutions.
Commercial Options for Heating Factories and Warehouses
Factories and warehouses pose different heating requirements than smaller areas. Finding a suitable unit to warm an ample space is easier when you work with a trusted heating and cooling company. They can discuss different options, such as:
Unit Heaters:

This popular option for heating your warehouse utilizes a fan assembly that blows over a coil and out into the open space. You may use several to heat the available floor space in your building.

Heat Pumps:

An environmentally friendly heating system, a heat pump extracts heat from the surrounding cold air. Then it pumps the heated air throughout your space. Since they do not use fossil fuels, heat pumps are a preferred, green alternative to other heating options.

Water Oil/Gas Heaters:

This type of heating requires gas or oil to heat water until it becomes steam. The steam runs through radiators, where the heat dissipates. To work well, the boiler must heat up, and the air need to be cleared from the system first.

Steam Oil/Gas Heaters:

As a traditional heating system, either oil or gas is boiled, condensed, and then the created steam passes through pipes in the building. The commercial boiler has to heat up first, and then the steam will circulate through the pipes.

Natural Energy:

Some options to reduce fossil fuel use include wind, solar, and geothermal power. Companies that want to reduce their carbon footprint can benefit from these HVAC systems.
Keep your employees productive in your warehouse by providing the heating comfort that comes from quality systems. TRI-AIR Systems helps you get what you need quickly.
Options for Heating a Retail Shop
Even with the popularity of online shopping, there is something different about physically browsing through a retail shop. Customers can feel the textures and handle the merchandise before taking it home. Many people love the experience they have being in a store. Part of that experience includes the heating comfort they get when they walk into a store. When you need to keep your store warm, you have some options:
Air Handler Units (AHU): This apparatus connects to a heat pump, providing consistent air regulation for your indoor space. These systems are energy efficient, too. Your dependable HVAC company may refer to them as a four-pipe vertical stack, chilled water fan coil, ductless mini-split air handler, or hydronic air handler.
Water Source Heat Pump:

Sometimes called a two-pipe system, this system circulates water to heat pumps in different zones using high-volume pipes. It's flexible and has low up-front costs.
The style of the heating unit should be based on your shop's unique needs and your patrons' comfort. Talking with a qualified HVAC company is a step in the right direction.
Choose an Experienced HVAC Company Dedicated to Your Heating Comfort
Choose the best heating equipment for your facility when you work with the experienced team at TRI-AIR Systems. Our goal is to provide you with the highest quality service driven by our commitment to building long-standing relationships. You can depend on us to arrive quickly for your emergencies, 24 hours a day, 7 days a week. Look to us for new installations and routine maintenance through our HVAC Proactive Maintenance Agreement.
For more than 40 years, we have serviced the Markham and Greater Toronto Area with excellent commercial HVAC services. Look to us when you want the best service in the area for all your heating and cooling needs. Your satisfaction is our primary goal, which we consistently achieve through rapid response times and knowledgeable, friendly technicians. Are you ready to experience outstanding service from the first phone call? Call us today!
For expert advice on the best commercial and industrial heating system for your building, call 905-470-2424. You can also contact us online to schedule a consultation, order a new HVAC system or discuss a commercial HVAC maintenance plan.