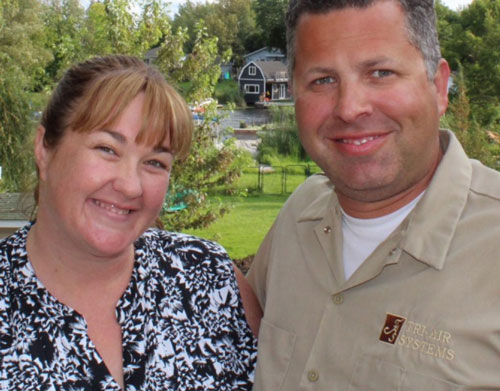 Each day, Kelly Burns takes on two big responsibilities: family, and managing TRI-AIR Systems, a leading Ontario mechanical service company.
TERRY MCIVER
AUG 31, 2017
Kelly Burns represents the future at TRI-AIR Systems. Twenty years into her career with this Markham, Ontario-based mechanical service contractor, she has a firm grasp of the reins of leadership, just as her dad had hoped she would. And she hoped so, too — she says all she's ever wanted to do was be part of the family business.
Her dad is Ric Burlie, who, along with two partners, started the company in 1980. He eventually became the sole owner of a business that grew slowly but surely, by servicing a wide variety of commercial customers in the Toronto region. As Ric nears approaches full retirement, Kelly is a major contributor to TRI-AIR's daily activity and continued success.
We are pleased to present Kelly Burns with one of two 2017 HVAC Women of the Year awards.
She began as all company kids do, by performing light office work. When the company accountant moved on, high-school- age Kelly took up the accounting duties.
Time went by, and about two years into her studies to become a paralegal, Ric suffered a massive heart attack. Kelly was soon juggling college courses and doing all she could to keep the business running while Ric was recuperating. When he decided to reduce his workload, Kelly began to learn more about business, and about running a mechanical service firm. She also became a certified general accountant.
When not at work or at home raising two children, you can find her at an industry event or educational forum. She also picks up courses in advanced accounting and marketing as time permits.
"Kelly takes this job very seriously, and is always trying to find more ways to gain sales and find efficiencies within the company," says her husband Chris Burns, TRI-AIR's technical service manager.
"I oversee everything, from running the back shop and ordering supplies, to payroll, to developing new systems," she says. "But I do bounce things off my dad. He's awesome. I can call, text, or email him at any time, and he always gives me his two cents."
Her biggest challenge is maintaining a work/life balance.
"My number one priority is to try to effectively balance work and home," she says. "When I had my first child, our daughter, I had a C-Section, so I was bed-bound for a couple weeks. But as soon as I was out of that bed, I was bringing her and a playpen to the office. As the kids got a bit older, I went to three days. Now I work from home on Fridays and try to help at the school, or volunteer in their classrooms. I really try to use technology to be available 24/7 for work, but also to be with the kids," she says. She and Chris also have an 11-year-old son.
Kelly recently joined the Markham Board of Trade, which is comparable to the U.S. Chamber of Commerce. She's also a member of the Businesswomen's Network of York Region, which helps women develop business partnerships.
"I've met some fabulous people out there. You meet people, and don't even realize that you work in a building around the corner from them," she says.
Kelly has good things to say about her husband Chris, and the entire TRI-AIR Systems team.
"Chris is amazing. He's extremely passionate about the industry. He does a lot of our technical training and is always learning about the newest products being offered," she says.
TRI-AIR's service specialties include commercial HVAC, industrial process and heating equipment, air quality and gas detection, and kitchen exhaust systems.
About the TRI-AIR team, she says: "'Alone, we can do so little; together we can do so much' are words spoken by Helen Keller, that I truly believe in," she continues. "Everyone at TRI-AIR Systems are equally important members of our team, and everyone together forms the 'engine' that runs TRI-AIR Systems. I believe the main reason we continue to be successful is because our team — or, 'engine' — is made up of long term, trustworthy and dedicated people."
CONGRATULATIONS to Kelly Burns, a 2017 HVAC WOMAN OF THE YEAR!