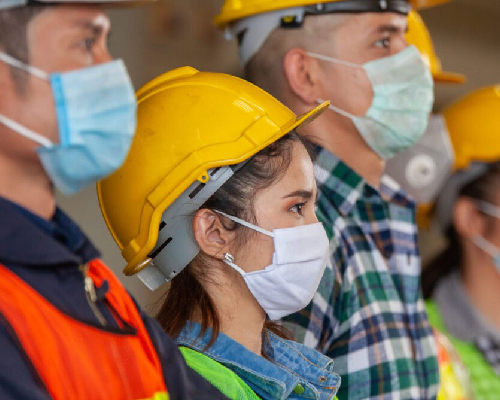 TRI-AIR Systems recognizes the importance of worker safety as we start to resume office operations following the COVID-19 work stoppage. We plan to provide a safe and effective work environment to help prevent the spread of COVID-19. A variety of measures will be used to cut down the risk of COVID-19 as we resume the "new normal" level of operations.
Use the information below as guidance to keep you and your colleagues safe:
Your Health and Safety and that of others must come first.
We are following the recommendations of Public Health Ontario.
If you have any concerns or are unsure of anything at all, contact the Office or Supervisor.
You must have the means to work safely, sanitize or wash your hands, disinfect your tools and equipment and job site if required. Make sure you have the proper PPE and methods to sanitize as needed.
Wash hands frequently with soap and water for at least 20 seconds.
If using hand sanitizers, they must be alcohol-based (with greater than 60% alcohol) to be effective.
Maintain physical distancing. Everyone in Ontario should be practising physical distancing to reduce their exposure to other people. It would be best if you avoided close contact with people outside of your immediate family. Close contact includes being within two (2) meters (6 feet) of another person, so currently, 2 men in a truck does not meet the physical distancing standard.
Social distancing rules must still apply when getting your work orders signed/approved.
Use of proper PPE is mandatory and can change from job to job. PPE can consist of but is not limited to the following:
Hand Sanitizer
Disinfectant Wipes
Paper Towels
Disinfectant Spray
Disposable coveralls
Disposable nitrile gloves
Face masks
Face shield
Goggles
Garbage bags to dispose of used PPE
If there is PPE that you require, contact the Office or Supervisor for instructions on how to obtain.
How-to Put-on PPE Gear
More than one donning method may be acceptable. Below is one example of donning.
Identify and gather the proper PPE required to do the work.
Perform hand hygiene using hand sanitizer.
Put on disposable coveralls.
Put on approved filtering facepiece respirator or higher If the respirator has a nosepiece, it should be fitted to the nose with both hands, not bent or tented. Do not pinch the nosepiece with one hand. Respirator/face mask should be extended under the chin. Both your mouth and nose should be protected. Do not wear a respirator/face mask under your chin or store in your pocket between jobs.
Respirator:  Respirator straps should be placed on the crown of the head (top strap) and base of the neck (bottom strap). Perform a user seal check each time you put on the respirator.
Face mask: Mask ties should be secured on the crown of the head (top tie) and base of the neck (bottom tie). If the mask has loops, hook them appropriately around your ears.

Put on a face shield or goggles. Face shields provide full-face coverage. Goggles also provide excellent protection for eyes, but fogging is common.
Perform hand hygiene before putting on gloves. Gloves should cover the cuff (wrist).
Work may commence.
When work is complete, Sanitize any tools that were used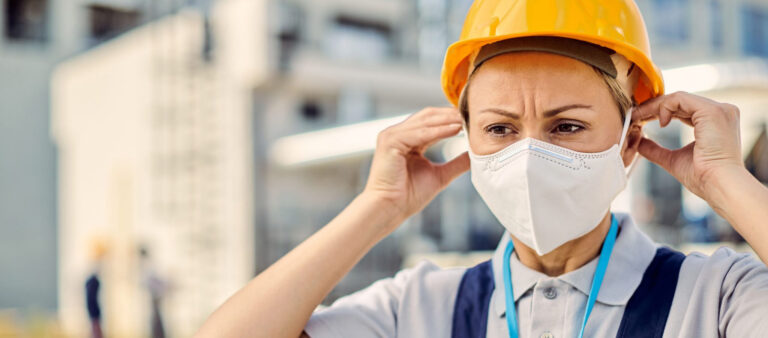 How to Take Off PPE Gear
More than one removing method may be acceptable. Below is one example of doffing.
Remove gloves. Ensure glove removal does not cause additional contamination of hands. Gloves can be removed using more than one technique (e.g., glove-in-glove or bird beak).
Remove Coveralls. Dispose Coveralls in Garbage Bag
Healthcare personnel may now exit the patient room.
Perform hand hygiene.
Remove face shield or goggles. Carefully remove face shield or goggles by grabbing the strap and pulling upwards and away from the head. Do not touch the front of the face shield or goggles.
Remove and discard respirator (or face mask if used instead of respirator). Do not touch the front of the respirator or face mask. *
Respirator: Remove the bottom strap by touching only the strap and bring it carefully over the head. Grasp the top strap and bring it carefully over the head, and then pull the respirator away from the face without touching the front of the respirator.
Face mask: Carefully untie (or unhook from the ears) and pull away from the face without touching the front.
Perform hand hygiene after removing the respirator/face mask 
As the COVID-19 pandemic evolves, we will adjust our policy to ensure that you are provided with a safe work environment. If you have any suggestions on how we can improve our COVID-19 policy and procedures, please reach out Human Resources.
At TRI-AIR Systems safety has always been important to us, to view our overall Health and Safety guidelines, click here: https://www.triair.ca/health-safety/
Contact Us
Ensuring the safety of your workspace, store, restaurant, or building is something TRI AIR Systems takes seriously.
If you want to take the next step to safety, here is our TRI-AIR Systems Guide to Better Air Quality. Our experts have over 40 years of experience, let us help improve your indoor air temperature and prepare your business for the new normal.
Get ahead of the curve, Contact us today to schedule an inspection and calculation to make sure your A/C is working according to specifications for building use and occupancy.
Call Now! (905) 470-2424