Sanuvox UV Air Purifier provides clean air for small multi-residential buildings
The P900GX is a portable air purifier weighing only 11 lbs. The variable speed blower of the P900GX moves the air into the reflective Aluminum Reaction Chamber so that the air travels parallel to the UV Lamp where the Dual Zone UVC/UVV (Germicidal/Oxidizing) Lamp destroys the biological and chemical contaminants.
Easily transported and includes a stand and carrying handle. The P900GX is the ideal and effective solution that will purify up to 900 square feet of space.
Download Spec SheetDownload Installation Manual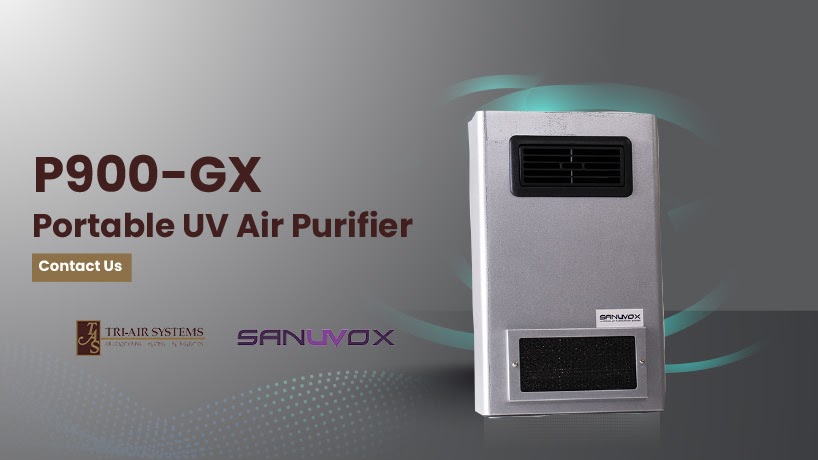 P900-GX Benefits
The P900-GX is an easy cost-effective solution for small homes and apartments!
This small, but mighty air sterilization system provides you with:
A better sleep
Protects from airborne germs
Reduces common household odours
Helps alleviate allergies and flu symptoms
Helps control asthma
I am text block. Click edit button to change this text. Lorem ipsum dolor sit amet, consectetur adipiscing elit. Ut elit tellus, luctus nec ullamcorper mattis, pulvinar dapibus leo.
The full P900-GX Spec Sheet
P900GX Features
Eradicates bacteria, viruses, and mold
Destroys Chemical and biological odors
Sanuvox patented system in a portable UV Air Purifier weighing 11 lbs
19 mm Quartz UVC/UVV 'J' Lamp (9" arc length)
9 electronically controlled speeds
Touch-Pad Digital Controls with Count-Down Timer
Purify up to 900 square feet
Easily wall-mountable, Stand and Handle
Lamp Life 3 Years
Power Supply 120 VAC
3-year warranty on parts including UV lamp
CSA Certified & CE approved
Dimensions, width 3.91" x height 11.66" x length 7.5"